It is imperative to pass a DCAA floor check to continue receiving government-issued contracts. This review discusses what a DCAA floor check is and why it matters for contractors who work on government-issued contracts.
What Is A DCAA Floor Check Audit?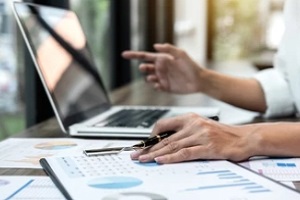 The Defense Contract Audit Agency (DCAA) is a government agency that is in charge of performing contract audits on government contractors who are working for various government agencies, such as the Department of Defense. A DCAA floor check audit is one of the primary parts of the DCAA audit process, and it consists of a visit to the contractor's worksite (or a virtual visit) to verify certain work and accounting details, such as the number of employees and timesheet processes.
The Purpose Of A DCAA Floor Check Audit
The primary purpose of a DCAA floor check audit is to verify the reported number of employees and ensure that they are following DCAA requirements for timekeeping practices. More broadly, the purpose of the DCAA audit in general is to ensure that government agencies are getting the most out of their expenditure.
What To Expect During A DCAA Floor Check Audit
The visit involves a DCAA auditor touring the facility, and they may ask the contractor representative as well as employees a series of questions about their operating systems to verify that hey are fully informed and in compliance. Subsequently, it is important to have a subject matter expert (SME) represent your company during the Defense Contract Audit Agency floor check audit as the contractor representative.
The Risks Of A Failed DCAA Floor Check Audit
A floor check audit is one of the primary requirements DCAA auditors take into consideration when determining whether or not the contractor is compliant with DCAA standards as they are established in the Federal Acquisition Regulation (FAR). A failure of a floor check audit significantly increases the chances of a failed audit overall, which can subsequently lead to an inability to procure future contracts with the government.
In the worst case scenario, fraud may be discovered during an audit, in which case criminal charges could be possible. If the DCAA audit process reveals inconsistencies or needed clarifications, the audit process may be slowed down and lead to the delayed release of final payments and closing out contracts.
The Most Common Reasons For Failing A DCAA Floor Check
The two most common reasons for a failed floor check (which leads to a failed DCAA audit) are related to timekeeping requirements and employee training. By understanding why others have failed, you can take the proper precautions to reduce your risk of failing a floor check.
Timekeeping Requirements
Employees are required to record the amount of time they work on government contracts each day. Supervisors are not allowed to record times for their employees, and employees are not allowed to record their time at the end of each week or in advance of work they perform.
Instead, at the end of each day, each employee is required to record exactly how much time they have worked in accordance with the DCAA guidelines. This can be electronically (preferred) or in written format. A failure to properly keep a timesheet for each employee could lead to issues during a floor check.
Employee Training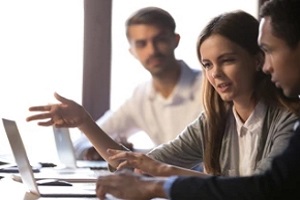 It is important that you are hiring employees who are qualified and properly trained. They must also be informed of their role in maintaining DCAA compliance. This is because the DCAA auditor who performs the floor check may ask questions to employees about timekeeping and other relevant details, and they should know how to properly answer the questions to avoid any concerns during the audit process.
DCAA Timesheet Compliance And Changes
As discussed, it is crucial for all of your employees and supervisors to be informed of what their job is as it pertains to timekeeping and how to properly submit timesheets. These timesheets are crucial to ensure that you are billing government agencies for the appropriate amount of hours, and the bookkeeping of the timesheets is important for passing both a floor check and a DCAA audit overall. If any changes are made to the timesheets, then it is important to make a note of the changes at the time you made them and specifically state why the changes were made.
Employee Qualifications, Training, And Awareness
DCAA auditors may check the qualifications and training of the employees that you hire. This may take place before or after a floor check. Be sure to have an answer to why you hired each one of your employees and have an understanding of the work they perform for you, how much they are compensated, and any other relevant details related to the hires that you make while working on government-issued contracts.
Contact Diener & Associates
Ensuring that your business has the necessary accounting and timekeeping protocols in place in order to pass a floor check audit is essential to passing a DCAA audit overall. Working with a team of certified public accounts can support your business's efforts toward establishing and maintaining DCAA compliance.